Honorary Consulate General of the Czech Republic in Kathmandu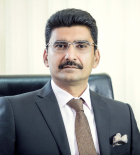 Mr. Vishnu Kumar Agrawal
Honorary Consul General
Message
It gives a great pleasure to present the website of the Czech Honorary Consulate General in Kathmandu, Nepal to people of the Czech Republic and Nepal.
Nepal and the Czech Republic share quite many similarities. Both are landlocked countries having an illustrious history and rich cultural heritage. Both of them are located in between huge economies, preserving separate identities and popular destinations for tourists. Peoples of the two countries share hospitality, the wish to stay close to the nature and their love for hills and mountains.
With an establishment of bilateral relationship on 1st January 1993, both countries have had a cordial relationship.
Both the countries being so beautiful in their own way are attractive for people from all over the world. The Czech Republic is famous for its castles, chateaus, crystal and, most important, landscapes. Similarly, Nepal attracts people for Mt. Everest, trekking and tremendous beauty of its nature.
The objective of the website is to provide information to Czech travelers to Nepal and Nepalese travelers to the Czech Republic. We wish them a very pleasant and unforgettable visit bringing memories which they will cherish for the whole life-time.
I thank you for utilizing the contents of the webpage. I hope they have been resourceful for assessing information required. We shall continuously upgrade its contents, thereby, enhance them and make them more resourceful.
Should you have any comments on this webpage, please do not hesitate to contact us. We will be more than happy to receive your suggestions.
---
Honorární generální konzulát České republiky v Káthmándú
Poselství
Je mi velkým potěšením představit stránky Honorárního generálního konzulátu České republiky v  Káthmándú občanům České republiky a Nepálu.
Nepál a Česká republika vykazují mnoho podobností. Oba státy jsou vnitrozemskými zeměmi oplývající bohatou historií a značným kulturním dědictvím. Obě země jsou situovány mezi velkými ekonomikami, přesto si dokázaly udržet svou identitu a populární turistické destinace. Obyvatelé těchto dvou zemí spolu sdílí pohostinnost, blízkost přírodě a lásku k horám.
Od 1. ledna 1993 země spojuje srdečný bilaterální vztah.
Obě země svou krásnou přitahují lidi z celého světa. Česká republika je známá svými hrady, zámky, výrobky ze skla a v neposlední řadě přírodními scenériemi a krajinou. Podobně jako česká republika, Nepál přitahuje lidi pro MT. Everest, trekking a neskonalou krásu přírody.
Cílem těchto stránek je poskytovat informace českým cestovatelům, kteří se chystají do Nepálu a nepálským cestovatelům mířícím do České republiky. Přejeme jim co nejpříjemnější a nezapomenutelnou cestu přinášející vzpomínky, které budou chovat v srdci po celý život.
Děkuji Vám za využití obsahu těchto stránek. Doufám, že Vám dobře posloužily při hledání potřebných informací. Budeme její obsah průběžně aktualizovat, abychom dosáhli co největšího užitku.
Pokud máte k internetovým stránkám konzulátu jakékoliv připomínky, neváhejte nás kontaktovat. Budeme rádi za Vaše návrhy a příspěvky.